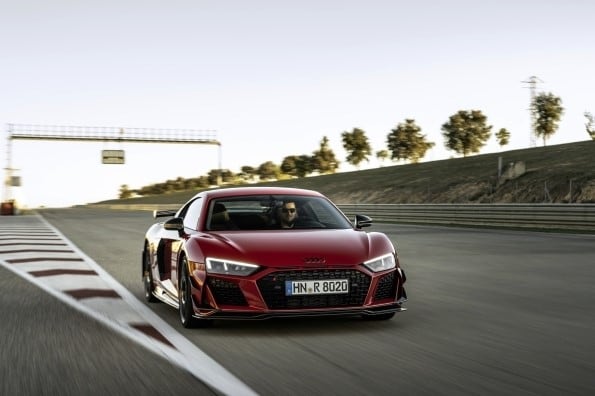 Audi's performance vehicles are the dreams of motoring enthusiasts around the world. Each release is more extravagant, powerful, and exciting than the last. Nowhere else is this passion for design perfection better seen than in the Audi R8. Modelled after the Audi Le Mans quattro concept car, the first generation of the R8 turned heads with its sporting design and powerful engine; drivers had the option of a 4.2 L V8 or a 5.2 L V10. This first release was so impressive that famed Le Mans driver Jacky Ickx stated that the R8 was the best handling road car ever released, high praise from the racing legend.


If the original R8 was impressive, the new limited edition Audi R8 GT is simply jaw-dropping, a worthy successor to the first generation. The most powerful RWD Audi ever released, the naturally aspirated 5.2-liter V10 engine now comes with 602 horsepower and 413 lb-ft of torque. In fact, the engine that is installed in the R8 GT is nearly identical to the engine in its namesake, the Audi R8 LMS, the very car that Audi enters into the 24 Hours of Le Mans.
This monster under the hood gives some very impressive performance statistics. The top speed of the R8 GT is 199 mph, and it can reach 60 miles per hour in just 3.3 seconds. This is helped by the 8700 rpm max engine speed. To preserve the unique engineering quality of the R8 GT, Audi hand-produces every unit at their production facility in Böllinger Höfe, the same place where their vehicles for the 24 Hours of Le Mans are made.


This attention to detail is seen throughout the design of the car; the seven-speed dual clutch transmission has been adjusted for even faster shift times, and the total curb weight of the car has been cut by 55 lbs in part through its innovative use of aluminum and carbon fiber. In total, Audi's approach to this car is more art than design, seen easily in its mastery of every element in the car.