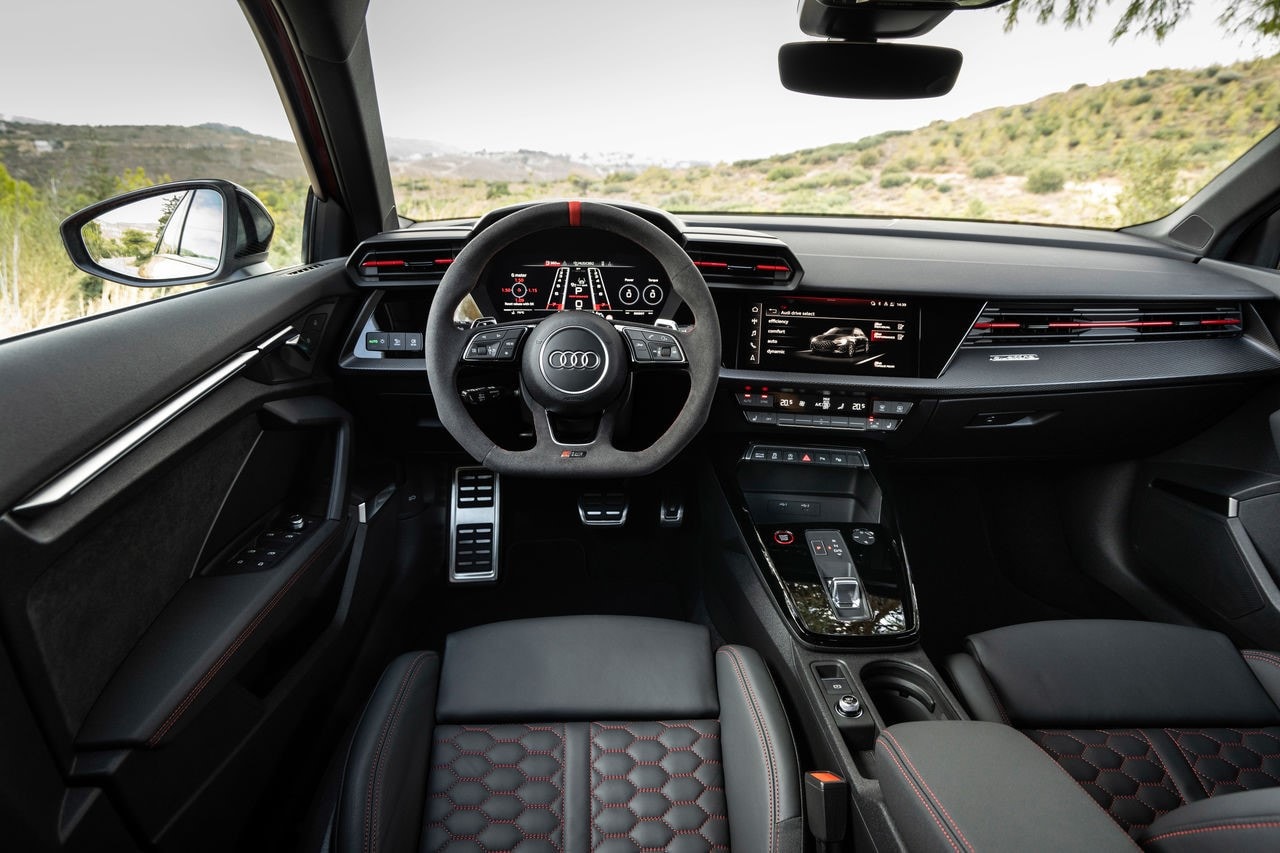 The 2023 Audi RS3 is an absolute joy to drive and is a truly remarkable performance car. This latest offering from Audi has all the features that one would expect from a premium sports car, and it sets a new standard for its class.
One of the most impressive aspects of the 2023 Audi RS3 is its performance figures. The car is powered by a 2.5-liter, five-cylinder engine that produces a whopping 401 horsepower and 369 lb-ft of torque. This powerful engine is paired with a seven-speed dual-clutch automatic transmission, which provides lightning-fast shifts that help the car reach 60 mph in just 3.3 seconds. The top speed of the 2023 RS3 is an impressive 159 mph.
In terms of exterior design, the 2023 Audi RS3 is a sleek and stylish machine. The car has a low and wide stance, with sharp lines and angles that give it an aggressive and sporty look. The front end features Audi's signature single-frame grille, which is flanked by LED headlights and daytime running lights. The rear of the car is equally impressive, with a sporty diffuser and twin oval exhaust pipes.

While the exterior of the RS3 projects its sporting heritage, the interior is spacious and comfortable, with plenty of room for passengers and cargo. The seats are upholstered in leather and Alcantara, and are heated and ventilated for maximum comfort. The dashboard features a 10.1-inch digital instrument cluster, which displays all the essential information that a driver needs.

Looking at its safety features, the 2023 Audi RS3 is packed with advanced technology. Equipped with a fantastic suite of driver assistance features, you can rest assured of your time on the road with the use of adaptive cruise control, lane departure warning, and automatic emergency braking. The car also has a 360-degree camera system, which provides a clear view of the surrounding environment.

It's no surprise that the 2023 Audi RS3 won the Best Performance Car award in Women's World's Car of the Year rankings. This car is a true masterpiece of engineering and design, and it sets a new standard for performance cars in its class. Anyone who is looking for a thrilling driving experience and a truly exceptional sports car should definitely check out the 2023 Audi RS3.