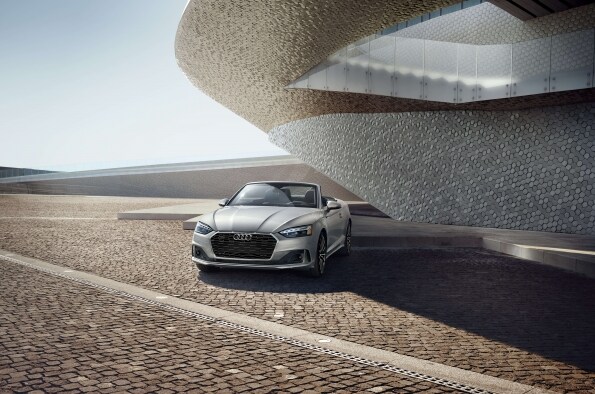 Audi has revealed a revamped version of the Audi A5 for the 2020 model which goes beyond mere physical changes, with a new benchmark infotainment system added as well.

Along with updated exterior design features emphasizing the brand-famous sporty aesthetic and harmonious body line the Audi A5 has a refreshed interior design highlighting all the new tech upgrades for the model year.

The body style of the A5 series— consisting of the A5 Coupe, Sportback, and Cabriolet, as well as the S5 Coupe, Sportback, and Cabriolet — has become bolder as opposed to the first generation, giving this vehicle a strikingly powerful presence on the road. The Singleframe honeycomb grill has been extended so that it is both wider and flatter, air inlets have increased in size as part of the bold blade forming the lower edge of the bumper, a new side sill gives a sleeker appearance, and trapezoidal tailpipes in the diffuser insert adds a wider look to the rear.

Inside, horizontal lines lead the eye to the large MMI touch display, which serves as the instrument panel's focal point. The large 10.1-inch touchscreen (1540 x 720 pixels) features the all-new infotainment system MIB 3 which can provide drivers with an even more connected experience.

Furthermore, the new modular infotainment framework of the third generation operates up to ten times faster than the MIB 2 system, allowing faster processing speeds and visual resolution to offer a better consumer experience. Acoustic feedback helps improve driver's ease of use of the touchpad when the vehicle is in motion, and accessible handwriting recognition with full-word input offers an easy way to enter data like phone contacts or mapping locations.

The A5 is also fitted with natural-voice control that helps make the A5 a smart travel assistant. Drivers can speak both questions and commands which will receive detailed feedback from the A5 via onboard stored data or cloud data available. There's no denying it—the smart car of the future is finally here.
Also available is the second-get Audi virtual cockpit featuring a 12.3-inch display with HD resolution at 1920 x 720 pixels. The driver can select three modes of viewing–classic, dynamic, and sporty. Sport mode replaces classic mode as the default view on S5 models, and an S Performance mode replaces dynamic mode, moving the tachometer and speedometer to the front and middle of the monitor and incorporating a boost gauge and lap timer feature. The virtual cockpit improves infotainment and navigation through large Google Earth imagery or 3D city maps with 4G LTE support, if available.

It is one thing to read about new upgrades in technology and body line changes, it is entirely another to experience them first hand. Stop by O'Daniel Audi and experience the future, today.