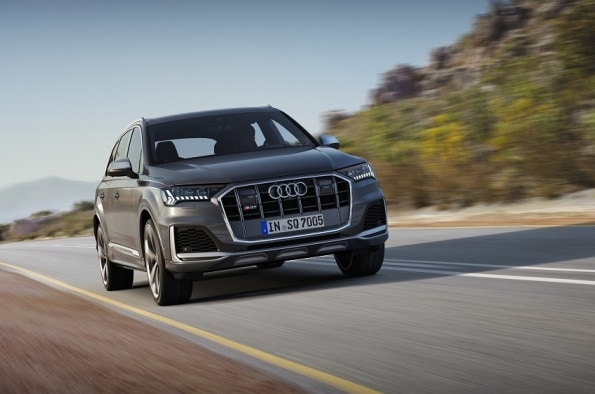 In late spring, the 2020 Audi SQ7 and SQ8 luxury SUVs are set to arrive in the United States, delivering a powerful 500 horsepower paired with the sleek and stylish Q design language. The SUVs will run from 0-60 in 4.3 seconds in partnership with 4.0-liter TFSI twin-turbocharged V8 engines. The 2020 Audi SQ7 and SQ8 give consumers both performance and viability within a premium package packed with attentiveness to detail and quality for which the brand is famously well known.

The 2020 Audi SQ7 will be the first performance version of the recently updated three-row SUV available in the U.S. Fitting perfectly in between the Audi Q8 flagship SUV, and the premier RS Q8, the first-ever RS SUV— is the Audi SQ8.

Both the SQ7 and SQ8 are fitted with a 4.0-litre V8 engine capable of producing 500 horsepower and 568 lb-ft of torque on all four wheels thanks to the Tiptronic eight-speed transmission and the brand-famous all-wheel-drive quattro. This helps both S models to accelerate from 0-60 mph to a top-track speed of 155 mph in an incredible 4.3 seconds.

An available quattro sport differential allows the vehicles more strength in cornering capabilities, enhancing the capacity of the standard vehicles' 40:60 front-to-rear torque split and sending up to 80% of the vehicles' power to the rear axle with the additional strength to transfer torque from side-to-side at the rear wheels — all cooperating to allow for better handling.

Certain driver-enabled innovations include automatic all-wheel steering that can turn the rear wheels in the reverse control of the front wheels to enhance maneuverability and handling at low speeds, as well as stability at higher speeds. Electromechanical active roll stabilization will also be available on SQ7, and SQ8 models, which can tighten the front and rear stabilizer bars when more dynamic driving is more important than cruising.

The 2020 SQ7 and SQ8 are distinguished with elements of Alu-optic or Black-optic style, include air intake blades, side sill blades, quality silver mirror caps and four exhaust ports. SQ7 models look sharp with a new Singleframe octagonal grille and will come equipped with 20- or 21-inch wheel models. The SQ8 will also include a corresponding Alu-optic grille and will come with 21-inch wheels with 22-inch available.

On the interior you'll find the SQ7 and SQ8 are equipped with standard front Sports seats with heating and ventilation to keep passengers relaxed and comfortable in all kinds of weather. The seats also have cross-stitched leather which is a details exclusive to the S models.

The SQ7 and SQ8 scheduled to arrive in the United States in late spring, combining premium performance, functionality, and style. Be sure to keep an eye on O'Daniel Audi for the arrival of these new beauties!