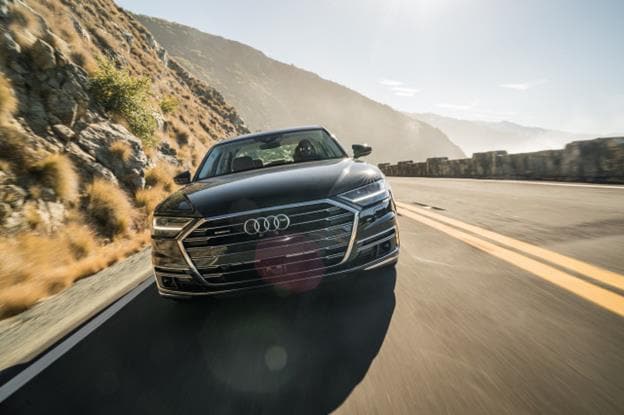 The 2020 Audi A8 is a high-tech luxury sedan like no other. With impeccable craft and comfort, responsive steering, and technical innovations integrated for ease of access, this car will take your drives to the next level. The ultimate driving experience will leave you feeling in touch with the road through the standard V6 engine. The exciting addition of a new plug-in hybrid V6 offers approximately 17 miles of all-electric range—saving you money on gas while making nearly the same horsepower as the A8's V8 engine. Part of the fourth A8 generation introduced for 2019, the Audi A8 has all the elements of luxury and will make occupants forget the stresses of daily life.

With an exceptional build quality, the A8 is sure to impress prospective buyers. The 2020 A8 comes in three well-equipped trim levels separated by a choice of powertrain: 55 TFSI, 60 TFSI, and 60 TFSI e. Within the U.S., the A8 option is the long-wheelbase A8 L.

When it comes to technology, the 2020 Audi A8 has implemented some of the most effective tools for drivers. Its screen-heavy interior has a myriad of standard and optional features. The use of the standard 17-speaker Bang & Olufsen audio system, Google Earth-based navigation, and voice and handwriting recognition system will ensure you never feel disconnected during drives. Additionally, the standard entry level cars have 18-way adjustable front seats, adaptive air suspension, three screens that include Apple CarPlay and Android Auto compatibility, and a panoramic moonroof, to name just some of the features.

While this car sports its luxurious qualities proudly, this is not important without proper safety measures. To ensure drivers are feeling comfortable and supported even after buying the car, Audi offers four years of roadside assistance with unlimited miles. Furthermore, every A8 comes equipped with automatic emergency braking and braking sensors. Several different packages are available that offer tools such as adaptive cruise control with stop-and-go for traffic jams, cross-traffic alerts, and even a warning that alerts occupants of passing bikers or vehicles when opening the car's doors. The car can even automatically lift its suspension by 3.1 inches after the detection of an impending side impact. This lets the structure absorb the crash, simply adding onto the luxurious benefits and lifestyle that come with this car.

There is a sense of opulence and splendor resonating from the 2020 A8 that simply cannot be matched. Take a seat behind the wheel and make every drive splendid with the 2020 Audi A8.