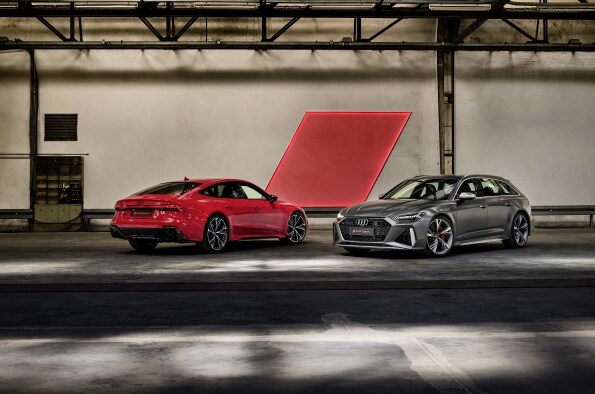 Electrify your on-the-road experience with the Audi e-tron Sportback. As the second model in the Audi electric portfolio, this cutting edge vehicle does not disappoint. The five-passenger SUV made its global debut at the 2019 Los Angeles International Auto Show alongside the all-new 2020 RS models and S models.
The new Audi e-tron Sportback earns its "e-tron" badging. Highly impressive charging power and longevity are encompassed in this vehicle. You can rely on Audi to provide a consistent driving experience. Not to mention peak driving dynamics. Equipped with standard electric quattro® all-wheel drive, you will feel confident and in control no matter where you go.
However, the e-tron Sportback is more than just a reliable SUV. With a zero-to-62-mph time of 5.7 seconds and speed topping out at 124 mph, the e-tron Sportback is a competitive electric car that will have you at your destination before your neighbors can say "Audi e-tron Sportback." On top of its sheer speed, Audi never fails to implement its signature luxury feel of its cars. Inside, you will find built-in Amazon Alexa
integration2
paired with MMI touch response1 infotainment systems.
The new suite of RS models also were showcased at the Auto Show. Audi beats expectations with its 2020 Audi RS 6 Avant and RS 7 Sportback. Fly forward with the RS 6 Avant, which offers the capability of 0-100 mph in 5.8 seconds with its impressive 590 lb-ft of torque and 600 horsepower. This car is meant for the everyday car enthusiast who wants to truly enjoy every-day driving.

With the second-generation RS 7 Sportback, you will be struck by the powerful and captivating design of this elite vehicle. With a V8 bi-turbo engine, your driving will reach both peak performance and precision. Updates with this second generation include a new wide-body configuration, more pronounced wheel arches, a lowered stance, and an impeccable design.