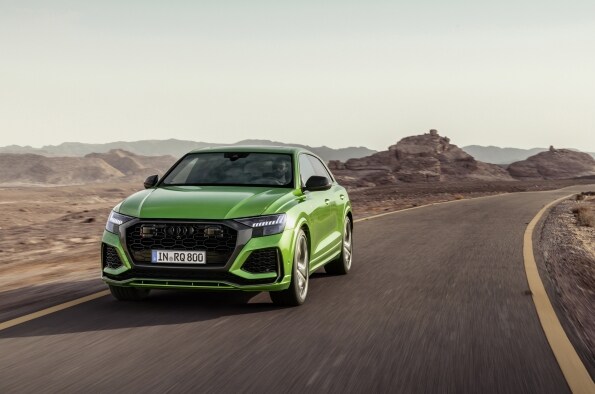 In November, the all-new Audi RS Q8 turned heads at the 2019 Los Angeles International Auto Show. At first glance, some terms that come to mind are athletic, sleek, powerful, and refined.

Once you take a seat behind the wheel, everything comes into perspective. The interior's slim instrumental panel and strong horizontal lines add to a feeling of spaciousness while still offering standard features such as a three-seat rear bench and 60.7 cubic feet of storage space with the luggage compartment. This car will satisfy your need for speed with the everyday practicality and usability desired by many drivers.

You won't be the only one admiring your brand-new RS Q8 vehicle. Your neighbors will be sure to notice the way Audi's signature look shines through this evolved car. Gloss black front air inlets and the matte aluminum blade only further speak to the RS Q8's sporty and dynamic feel. Its zestful roofline ends in gently inclined D-pillars that are supported by the wide, pronounced wheel arches that trace back to the RS Q8's quattro® DNA. Audi further dominates with this vehicle through the addition of the octagonal Singleframe and RS-unique radiator grille.

The Audi RS Q8 will make you feel balanced on every drive no matter the speed. This is thanks to an RS roof-edge spoiler that offers downforce on the rear axle and therefore improved balance at high speeds. The speed of this expeditious car tops out at 155.3 mph (189.5 mph when equipped with the addition of RS ceramic brakes). The Q8 features a Biturbo V8 engine, the fastest production SUV to lap Nürburgring racetrack with an official time of 7 minutes and 42.2 seconds. Quantitively, this 4.0-liter V8 engine has 600 horsepower and 590 lb-ft, offering direct injection that propels it 0-62.1 mph in a swift 3.8 seconds. This turbocharged engine is the spearhead of the RS model line, and you won't want to be the one left behind in the dust.
This vehicle's striking and versatile design are signature qualities offered to you by Audi. Furthermore, the high-performance capabilities of this vehicle are typical of the RS models. Lastly, you will not miss out on the necessary practicality of an everyday car due to it being an SUV. There is no doubt you will get the best of every world with the Audi RS Q8.