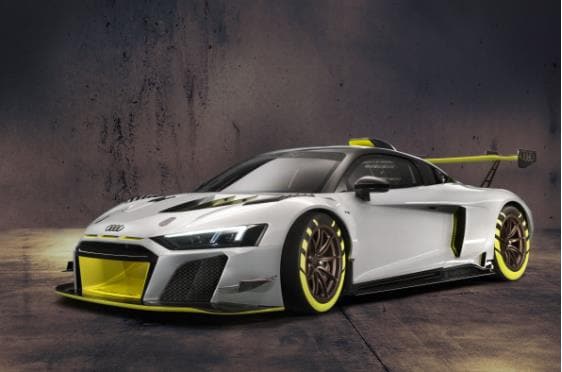 During the annual Monterey Car Week in California, the Audi R8 LMS GT2 made its U.S. debut. Earlier in the year, the GT2 made its global debut at the Goodwood Festival of Speed in West Sussex, England. Audi has a successful history with race cars, and the new R8 LMS GT2 won't disappoint. Using what they've learned from drivers and race teams, Audi Sport has developed the GT2 into the most powerful customer racing car from the brand.
On August 16, 2019, Audi celebrated its long history of racing at The Quail, A Motorsports Gathering—a world-renowned motorsports event. The R8 LMS GT2 made its debut there, joined by several other rare automobiles from racing history.
Attendees at the Rolex Monterey Motorsports Reunion held on August 17th were able to see the R8 LMS GT2 on display, where Tom Kristensen—a nine-time Le Mans winner—drove the GT2 around Laguna Seca's famed track. Finally, on August 18th, the GT2 made its final appearance at the Pebble Beach Concours d'Elegance.
Along with the R8 LMS GT2, Audi displayed the R8 V10 performance Spyder. The performance Spyder features a 5.2-liter V10 engine paired with a seven-speed S-tronic® dual-clutch transmission, allowing the sports car to jump from 0-60 mph in 3.3 seconds and reach a top speed of 204 mph on the track.
A 5.2-liter engine powers the R8 LMS GT2, generating 640 horsepower. The LMS GT2 joins the GT3 and GT4 in the Audi Sport customer-racing lineup, catering a new formula of Grand Touring racing for track enthusiasts to enjoy.
In 2020, a new GT2 category will be introduced with five rounds—perfect for Audi's latest race car. Audi's GT2 is ideal for fielding races as well as track days and events at clubs and resorts.
The Audi R8 LMS GT2 is available now for order with a selling price of $398,000. Deliveries will start in January of 2020, giving buyers plenty of time before the race season starts.