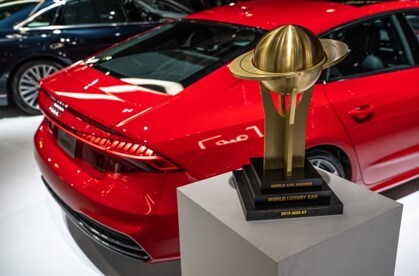 During the 2019 New York International Auto Show, the Audi A7 was awarded "2019 World Luxury Car," following the Audi A8 reception of the same award in 2018.

In 2014, the award was made to appreciate limited, higher-priced, and high-grade models. The A7 Sportback was voted on by a jury of 86 automotive journalists from 24 countries worldwide. These jurors were selected by the World Car Steering Committee based on the overall qualities of each journalist: experience, influence, expertise, and credibility.

A member of the Board of Management of AUDI AG Technical Development, Hans-Joachim Rothenpieler said about the award, "It is a great honor for the Audi to win the 'World Luxury Car' award twice in a row," he said. "We are very proud of this award because it shows Audi's ability to develop leading premium cars in various segments."

Each A7 model aims to challenge design norms. With the 2019 model's muscular definition and sharp design, the vehicle dares to be bold. Versatility is something the A7 is familiar with, Audi used the qualities of a sedan's spaciousness and combines the designs of a sportback and coupe to create the modern model.

The interior design comes with color-changing Ambient interior LED lighting plus package built in throughout the luxury vehicle. The interior provides ventilation, massage, and memory functions in the front seats for a customized experience.

Audi pre sense collision mitigation is technology made to assist through its sensors and cameras. The system reduces the chance of a possible accident and reduces the danger of the accident.
With a 3.0-liter TFSI V6 engine and 335 horsepower, within 5.2 seconds the model can reach up to 60 miles per hour. The standard 48-volt Mild Hybrid Electric Vehicle (MHEV) technology provides more energy and helps make new technologies available to improve the experience of Audi vehicles.