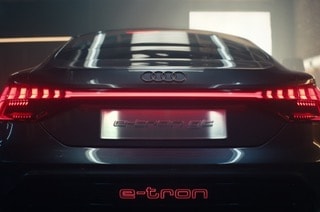 Audi used their minute-long spotlight time during the big game on Sunday, February third by airing the humorous commercial, "Cashew." "Cashew" was aired during the second quarter of the big game and provided the audience with a story-telling commercial regarding the utopia the man created in his head which included the all-electric Audi e-tron GT concept.
Audi has a reputation of portraying interesting stories and delivering empowering messages on the big game day from the message about pay equality with "Daughter" in 2017, the shooting for the moon with "The Commander," and also the interactive commercial allowing online viewers to vote at the end in 2013 with "Prom."
The big game offers a national platform in order for the Audi brand to promote their future goals and commitment to electric vehicles, while also highlighting the future electric performance of the Audi e-tron GT concept which is planned for production in two years.\
"Discerning viewers will also notice a cameo by the e-tron SUV, which is scheduled to hit U.S. showrooms in the 2nd quarter of this year," said Loren Angelo, vice president, Marketing, Audi of America.
As the cinematic comedy begins, a man is walking in an elegant field in which he then is greeted by his late grandfather in front of a country-style home. The grandfather leads him into a garage where the man then finds the all-electric Audi e-tron GT concept. Excited and ready to drive, the man wastes no time by pushing the start button and the vehicle comes alive. Right before the man can drive the car, he is interrupted from his daydream from his body is being jerked during medical assistance from a co-worker and then coughed up a cashew nut. After the co-worker performed the Heimlich Maneuver, she walks away and said, "You're one lucky man. I was worried about you for a minute," as a look of sorrow appears on the man's face. At the very end, the commercial leaves with a message that read, "A thrilling future awaits. On Earth. One third of all new Audi models will be electrified by 2025."
This commercial promoted Audis electric future goal of offering more than 20 fully electric and plug-in hybrid models around the world by 2025.
San Francisco-based Venables Bell & Partners created "Cashew," while Ringan Ledwidge directed it. This past commercial spotlight marked Audi's 10th appearance during the game. The humorous "Cashew" is now available to watch on the Audi USA YouTube channel.