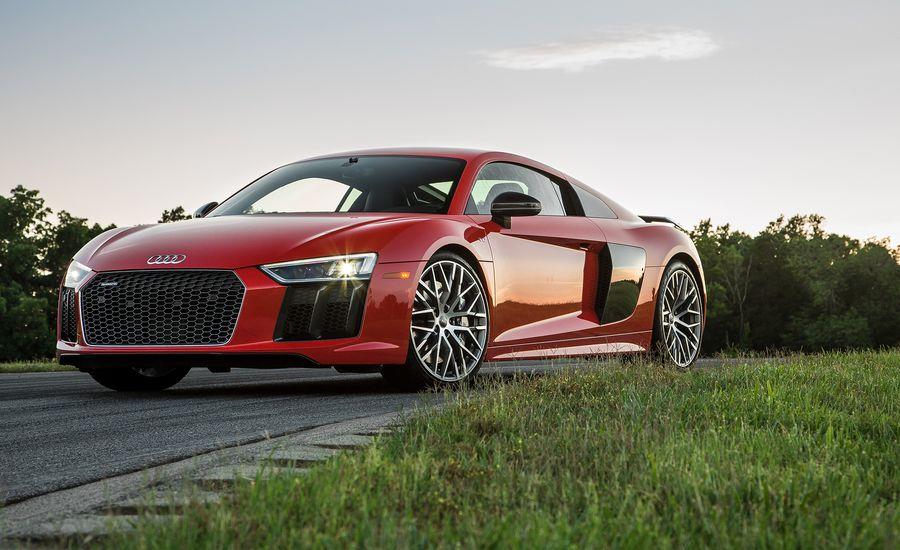 The 2018 Audi R8 has been turning heads left and right whenever its howling V-10 engine starts to sing its sweet throaty song. The powerful acceleration packs a punch, while also being equally suitable for daily driving with a comfortable cabin, smooth ride, and numerous state-of-the-art features. This stylish supercar is the perfect vehicle for car enthusiasts everywhere.
Audi has made slight updates to the engine for 2018, but that hasn't affected its greatest attribute: speed. The 2018 Audi R8 has seen many updates from last year's model, including the addition of 602-hp R8 Spyder V10 Plus and a new entry-level rear-wheel-drive V10 RWS model. The base coupe and the Spyder convertible provide a satisfying 532 horsepower, and the V10 Plus coupe and Spyder are an upgrade to 602 horsepower.
Not only does the 2018 Audi R8 sound good, but it is a feast of luxury for the eyes. Relocating the infotainment to the instrument cluster gives the dashboard a simple layout, allowing the sculpted sports seats and digital gauge cluster room to be center stage. Other interior updates for 2018 include dark-gray high-gloss trims for the V10 models and carbon-fiber inserts for the V10 Plus models. Cargo and storage remain the same as last year's model with extra space behind the seats in all coupe models. As far as exterior updates, the Audi R8 features imposing proportions that make it seem more massive and powerful than its low to the ground measurements might suggest. One of R8's many customization options include adding gloss-black coating to the car's optional 20-inch wheels, exhaust tips, and exterior trim — a guaranteed way to make any road your runway.
Finally, the standard automatic high-beams and front and rear parking sensors make this supercar safe on top of stylish. The coupes are fully equipped with airbags and warranty coverage for the R8 include complimentary scheduled maintenance visits within the first year of ownership. Engine updates, sleek design, and standard safety features make the 2018 Audi R8 one of this seasons hottest — most exclusive — rides.