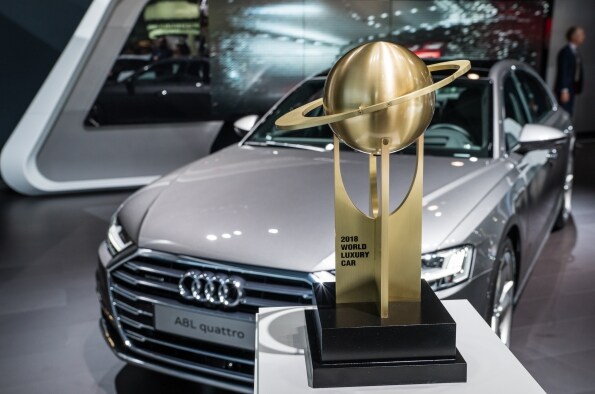 By Natalie Kuss
Audi adds another trophy to its shelf this year with its victory at the 2018 World Car Awards during the New York Auto Show. The Audi A8 Flagship model has been named the "World Luxury Car 2018," making it the ninth title that Audi has won at the event in total. The Audi company continues to put luxury first with all of its models and has earned the recognition it truly deserves this year.
At the New York Auto Show that took place at the end of March, the A8, along with other luxury cars, was assessed by multiple groups in order to determine the winner of the coveted "World Luxury Car 2018" award. 82 jury members from 24 different countries evaluated the A8 for emotional appeal, passenger comfort and safety, environmental aspects, driving performance, market relevance, and price-performance ratio. The Audi A8 defeated its two competitors in the final elimination round of the awards, making it the World Luxury Car 2018.
Peter Mertens, Board Member for the Development at AUDI AG stated about the award, "This award is a special honor for us and our flagship. The new Audi A8 is an innovation driver for our entire industry. It sets new standards in automotive engineering with its innovative touch control system, consistent, broad, electrification and the technical conditions for conditional automated driving." In addition to all of these features, the Audi A8 also includes all-wheel steering, advanced HD Matrix LED headlight with Audi laser light, and rear seat foot massagers. The Audi A8 pushes luxury to the limits this year with the introduction of these elements.
The Audi brand continues to impress consumers year after year with technological and safety updates that are the best in their class. The Audi A8's modern technology and luxurious components make it one of the most advanced vehicles on the market today.