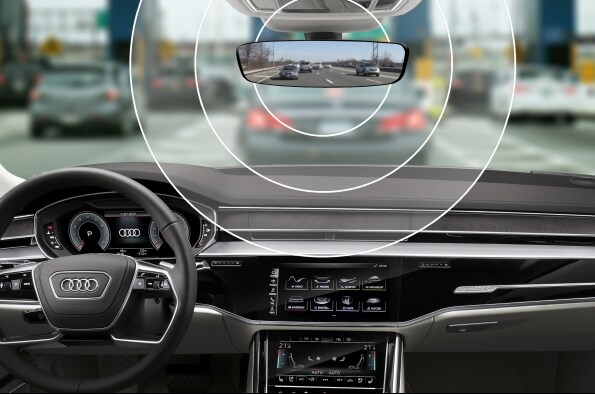 Later this year, Audi will expand its vehicle-to-infrastructure technology with the launch of a vehicle-integrated toll payment module on select vehicles. The Integrated Toll Module is a transponder built into the vehicle's rearview mirror, allowing access to toll roads in the US as well as parts of Mexico and Canada.
This latest feature to Audi models is another step forward in V2I technology (vehicle-to-infrastructure), allowing the car to interact with the surrounding environment. For owners of the popular German brand, the Integrated Toll Module provides an added layer of convenience and aesthetic enhancement for daily commute. It enables easier access to toll roads, helps to reduce windshield clutter, and makes accessing multiple toll accounts easier. The driver can do so by adjusting the module settings through the multi-media interface. The ITM can be turned off and on you can also change the occupancy settings for high-occupancy vehicle lanes and high-occupancy toll lanes.
The ITM was developed by Gentex Corporation, which already supplies Audi with auto-dimming mirrors. The module is compatible with all tolling agencies nationwide and can be registered with the driver's current account, new account, or nationwide tolling account.
Audi is the first automaker to introduce toll payment integration to its models. This is another feat in the brand's effort to have successful vehicle-to-infrastructure integration in the US. In late 2016, Audi revealed that select models would have onboard 4G LTE connectivity to interface with the city's traffic management system and monitor real-time traffic light information. This feature is said to help reduce the number of traffic accidents as well as to make traffic less congested in larger cities. This feature is available in select Audi Q7, Audi A4, and A4 all road models with Audi Connect.
Interested in finding out more about this feature? Give us al call today at Audi (888) 898-4836.