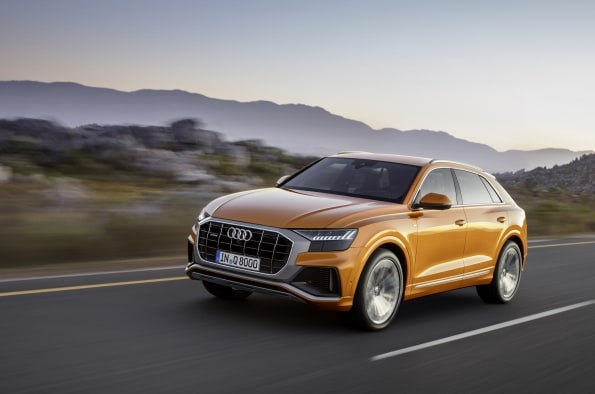 The Audi Brand adds another member to its family of innovative vehicles with the introduction of the all-new Audi Q8 at the brand's summit in Shezhen, China. The Q8 combines the best elements of an SUV and a coupe, creating an entirely fresh design for 2018. The vehicle provides the same great quality of the Audi brand with exciting new elements that will keep Audi at the top of the automotive industry for another year.
With exterior features such as Audi's signature Singleframe octagonal grille, the Audi Q8 may look familiar but is unlike any vehicle produced by the brand before. The Q8 has features of both a coupe and an SUV, making it a hybrid of the two that provides the best features of both. The Audi Q8 is wider and lower than a typical SUV with a sloping roofline and pronounced wheel arches. The sleek design of the vehicle is pleasing to the eye while creating extra space for potential passengers.
Drivers can expect a completely new driving experience with the Audi Q8's purely mechanical center differential that transfers power to the front and rear axle for better traction. The Q8 is perfect for offroad driving with its adaptive damping suspension and optional adaptive air suspension.
The interior of the Audi Q8 offers passengers more room than ever before. Customers can expect more than enough leg room and a large cargo capacity. It will be able to seat up to five passengers, making it the perfect family car. The Q8 also offers optional contour lighting that traces the design lines of the interior, adding a subtle futuristic touch.
In addition to its spacious interior, the Q8 includes a central element with an all-new MMI touch response display. The MMI operating system provides haptic and acoustic feedback to drivers, making it one of the most intuitive systems available. It can be customized to the driver's preferences with moveable "favorites" buttons, adding a personal touch to the vehicle's interior.
The Audi Q8 features classic Audi elements while offering drivers a new option from the brand. With its spacious interior and personalized features, the Q8 is the perfect vehicle for any occasion.