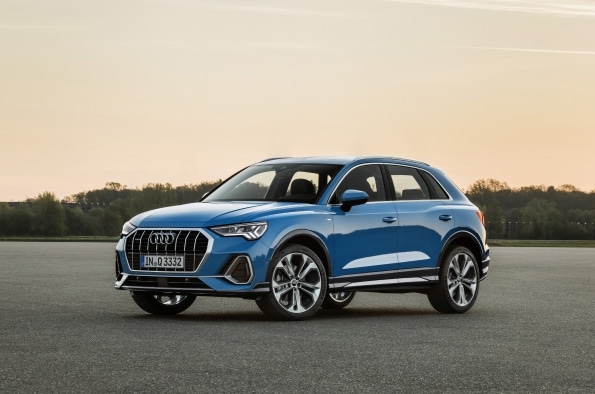 The Audi brand continues to release vehicles that stand out to customers worldwide. With the reveal of its all new Audi Q3, Audi adds another innovative SUV to its lineup. The new Audi Q3 will be available at European dealerships beginning in November of 2018.
The Audi Q3 is the perfect family SUV with its much sportier design. Audi's signature Singleframe grille adds a more masculine element to the front-end of the vehicle. Three versions of headlights will be available for the Q3 including Matrix LED technology that have high beam technology and adjust to any conditions while driving. The exterior of the SUV gets inspiration from Audi's distinctive quattro DNA, making it look wider than previous designs.
The interior of the Q3 continues the sporty theme with three-dimensionally styled features. Comfort can be found in the specially-designed seats and angled steering wheel that make driving around a family even easier.
The Audi Q3 provides four engine versions to meet the needs of any type of driver, including a diesel option. The output of these options range from 150 horsepower to 230 horsepower. For drivers who prefer to travel on more difficult terrain, the Q3 includes all-wheel drive with unparalleled traction and stability. The Q3 comes with various suspension options to make any environment accessible to drivers.
The technology of the Audi Q3 is unmatched by other SUVs. The vehicle includes an infotainment system that not only provides a Wi-Fi hotspot but also screens the SUV's surroundings for safer driving. Navigating is made simple by the Q3's system that generates route suggestions based on the driver's preferences. Smartphones can be connected to the infotainment system to allow for easier accessibility while driving.
The all-new Audi Q3 is a must-try for anyone searching for a vehicle in 2018. The Q3's sporty exterior and comfortable interior provides a sleeker option of family vehicles.