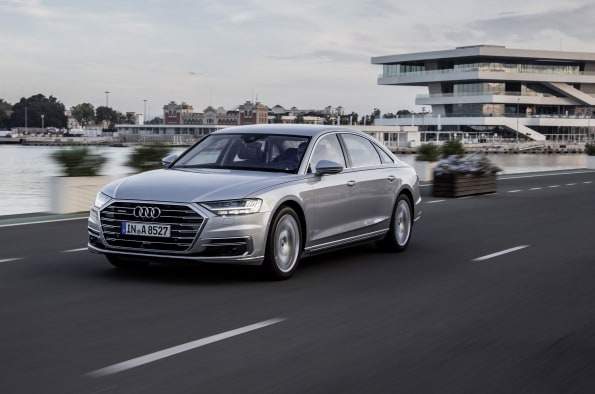 As impressive as its predecessors, the all new Audi A8 provides another luxury option for Audi customers worldwide. The A8's unique active suspension and driver assistance features sets a new standard in driving experience for 2019.
The technology of the A8 includes the latest equipment in the industry. The vehicle comes with two stacked touch interface screens with Audi's MMI touch response. The lower screen allows drivers to adjust seating and HVAC. The top screen acts as a smartphone where drivers can access feature icons and set personal preferences. The Audi A8 allows for up to seven individual profiles to be saved on its interface so switching between drivers is simple. The A8 also features completely new elements such as its HERE-powered map and navigation system. The new myAudi application allows drivers to control their vehicle from their smartphone. In addition to accessibility, the A8 also includes a Bang & Olufsen Advanced Sound System with 3D surround sound.
The interior and exterior features of the Audi A8 provides the comfort and sophistication that Audi vehicles have become known for. The interior of the vehicle includes Valetta and Fine Nappa Extended Leather options for a touch of luxury. Drivers can find comfort in the heated 18-way power front seats with lumbar adjustment and seat memory. In addition to heated seats, the A8 also includes heating massaging footrests, a heated steering wheel, and heated center and door armrests. The innovative features of the new Audi A8 provide drivers with the most relaxing driving experience possible.
Audi is unmatched in their driver assistance systems and functions, which will also be included in the A8 model. The A8 features the world's first laser scanner in a production vehicle and improved sensors to provide a more secure ride. The vehicle is equipped with a zFAS central driver assistance computer that sense any problem. The Audi A8 includes the brand's signature pre sense 360 system that predicts potential collision hazards and prepares the vehicle by initiating preventative measures automatically.
The highly anticipated Audi A8 makes a huge impression on the car industry this coming year with its new innovative technology and safety features. Drivers can expect a luxurious experience in 2019 when the A8 hits the car market.